How to prep for our services:
Please have a parking spot available as close to the area to be cleaned & an outside water faucet available to turn on.

Vacant houses must have electricity & water turned on.  Vacant houses need to be cooled down the night prior to your appointment (In the heat of summer we don't want the tech to get a heat stroke cleaning with steam in an extremely hot house). 
We are carpet cleaners and not furniture movers. We don't mind moving a few items, however in order for us to clean the carpet efficiently there is some prep work on your end that needs to be done before we arrive.
Move breakable items away from the area to be cleaned.
You will need to pick up everything off the floor in any area where we will be cleaning we will not pick up items in order to clean the carpet (including closets). Smaller furniture may be moved to an area we are not cleaning.
We will move anything that ONE man can move. We DO NOT move electronics, beds, dressers, armoire, antiques or breakables.
For the best possible results, Flooring needs to be free of debris prior to our arrival.  Carpet should be vacuumed and Tile/Grout should be swept. 
Pin up any full-length draperies and bed/furniture skirts at least 6 inches off the floor in any area where we will be cleaning.
Make it 68 degrees SEVERAL HOURS PRIOR TO OUR ARRIVAL

to create a dry, cool environment for the carpet to dry in a timely manner.
Turn on ceiling fans (You must have air flow to help dry the carpet)    
We clean with truck mounted units, which means we will have hoses from the truck mount that connect to our wand. This means your door will be slightly open the entire time we are cleaning.
Secure your pets in an area that we WILL NOT be working in:

We are working with machinery using very hot water, we ask that you keep your children away from the immediate work area. 
Carpet will be damp for 4 to 12 hours after cleaning. Please be advised that walking from damp carpet onto a hard surface can be very slippery.
Tell us about your concern. Point out spots and trouble areas.
After you show our tech concerned spots & he starts to set up, we ask you go in another room (that we are not working in) and let him do his job. This way you are out of his way and out of his workspace.
Payment is required upon completion. We have gone digital, therefore we will text or email copy of invoices.  We accept cash and credit cards. When working with customers that will not be present @ time of service, we require a credit card on file or invoice to be paid prior to starting any services. If you leave while we are working, we ask that payment is made prior to you leaving. We have customer say they will be back in 5-10 mins & our techs end up waiting on them to return to get payment, which makes them late for their next appointment.
When you scheduled, you received an arrival time window. Which means we will arrive within that window. We make every effort to keep our appointments. However, on occasion we may have to adjust our schedule. We will not rush through one job to arrive on time to the following job. By being prepared, you can help us to maintain our schedule. If for some reason we must adjust our schedule, we will call to let you know.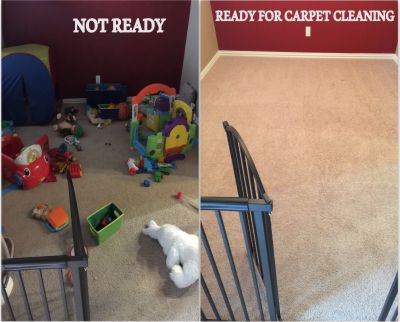 Dry Time can range from 4-12 hours. Make it 68-70 degrees in the house and turn on ceiling fans. Be careful going from carpet to non-carpet flooring (slippery). Dry times can vary based on quality of carpet, air movement, and condition of carpet.
Spotters – Over the counter products are the worst things to use. What they do not lift, they have a tendency of setting the spot (may not be removable). They leave a residue that acts as a magnet for dirt or may cause browning. We suggest vinegar and water Only.
Wicking occurs when spots re-appear as the carpet dries. Damp carpet is pulling spot/spill/soil from the padding.
Browning is a brown/yellowish appearance as carpet dries. This is caused by several things: Slow drying-tightly woven carpet, high alkalinity (spotters used prior to our arrival), or extremely dirty carpet.
Filtration Lines are dark lines along walls, by doors that are kept shut and poor air circulation . Their makeup is oily and the molecules of the soils are so small that cleaning/removing them from fibers is very difficult.
Pet Urine Treatment – When animals urinate on carpeting, it goes through the backing of the carpet and into the padding. When we clean the carpet that is what we are cleaning "the carpet" not the padding. The steam will penetrate and activate the urine smell. The smell should dissipate within a few days. If smell lingers, next step is to replace the saturated padding. We provide this service, just ask us for a quote for pad replacement.